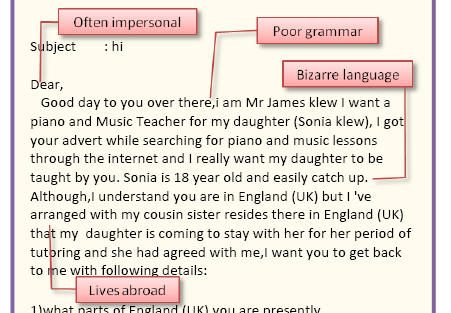 One of our tutors, Maureen, recently commented about a scam she was subject to:
A few months ago I had a lot of emails promising to pay me three months or six months in advance for my tutoring (Yoga) for a young person visiting my area. There was usually a sob story – a family bereavement or illness. All they wanted is my bank account details for the payment in advance. Beware!
We cover such scams and other safety advice to tutors on our tutor advice page and in our free e-book. This kind of threat is sometimes called the counterfeit cashier's cheque or advance fee fraud. Put simply, a dishonest enquirer from abroad asks if they can send you a cheque to pay for a block of lessons. For one reason or another, the enquirer then requests a refund for part or all of the amount. However, since the original cheque is fraudulent, you will lose any money you transfer back to the enquirer.
These emails tend to:
be from a 'parent' overseas (typically Africa, Russia or Eastern Europe);
request a large block of lessons upfront, despite knowing very little about you;
have poor spelling and grammar;
immediately request personal information such as your home address.
The best advice against such scams is simple: never send money to someone you've only ever met on the Internet, no matter what the circumstances are.