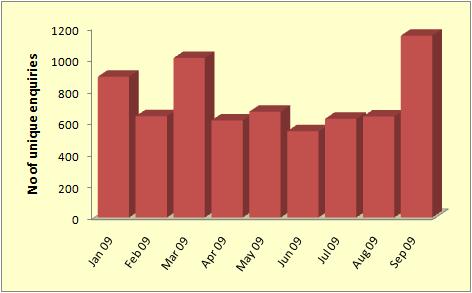 September is the 'back to school' month, and is traditionally an ultra-busy period for private tuition as well.  Enquiries increase not only for school subjects, but also for other areas such as musical instrument tuition and adult language lessons. The fact is, most people end their summer break with the sense of a fresh start, and renewed enthusiasm for learning.
On top of this natural seasonal surge in interest, at The Tutor Pages we're especially excited: that's because enquiries reached record levels for us in September, with almost 1200 genuine enquiries sent to our tutors. Moreover, this figure excludes the enquiries made to tutors who include their own websites in their profiles.
This success is not surprising when you consider that The Tutor Pages has recently been performing well in search engine results for a large number of relevant search terms. Why not try it out? We invite tutors to think of a relevant search for their subject, such as gcse english tutor leeds.
You can see our statistics for yourself at www.thetutorpages.com/monthly-stats.